CANS 2020 MacFarlands Industrial Softball Tournament
CANCELLED – August 22, 2020

2020 Event Information
Date: Saturday, August 22, 2020* – CANCELLED
Location: Mount Edward Road Ball Fields, Dartmouth, NS
Registration: Coming soon!
*EVENT CANCELLATION NOTICE —
July 15, 2020 — Thank you for your continued support and confidence in CANS. As COVID-19 has evolved over the last few months, we have seen many guidelines and restrictions placed on public activities.
With this in mind, our board of directors and management have carefully been monitoring and proactively planning to ensure that we do our part to limit the spread of the virus. To this end, we have made the difficult decision to cancel our 2020 CANS Softball Tournament, which had been planned for August 2020. This decision was not reached easily as we considered the reputational, safety and financial risks of cancelling, postponing or continuing with the event.
CANS Softball Tournament provides a fun opportunity for CANS members to network, play ball, and enjoy the outdoors. Through the commitment of staff, volunteers, attendees and our sponsors, we have been able to build and deliver an exceptional experience. CANS annual Softball Tournament will be back in the summer of 2021 and we look forward to your enthusiastic involvement.
Thank you again for your continued investment in your association!
Never been to a CANS Softball Tournament and wondering what it's like? Check out event details from last year's event!
CANS 2019 Herc Rentals' Softball Tournament
OVERVIEW:
This year will be a one-day tournament. The first game starts at 8:00 a.m. and the final championship game starts at 9:45 p.m.
A total of 17 teams can be accommodated in two divisions (Fun Division and Competitive Division)
Equipment for your team (bats, gloves, etc.) is not provided by CANS; please bring enough for your team!
Join us at The Game Zone from 10:00am until 4:00pm! We will have plenty of fun games for young kids and 'big kids' alike! Join us for a bouncy house, washer toss, bean bag toss, a golf chip challenge and more!
Spectators are welcome at this tournament! Encourage your friends and family to come out and cheer on your team!
REMINDER: The consumption of alcoholic beverages on or about public land is against the law. Failure to comply may result in fines to the user.
Text your game score to (902) 499-2939 after each game.
TEAM INFORMATION:
Download the full Team Information Package here, or see below for details.
General Rules:
The consumption and/or selling of ALCOHOLIC BEVERAGES on or about public land is against the law. Failure to comply will result in fines to the user.
You shall comply with Nova Scotia's Smoke-free Places Act, Smoking and/or the use of chewing tobacco or marijuana or cannabis or related drugs or narcotics is strictly prohibited in any Facility. There shall be no smoking within four (4) meters of any entrances to, or exits from, the Facility.
No motorized vehicles are permitted on any outdoor facility. Vehicles are only permitted on site long enough to unload and load equipment.
Clean-up after your team: take your refundables and clean your garbage; bags will be provided by CANS.
Reports of unsportsmanlike conduct will result in a ban on future play for the team(s) involved and could result in the cancellation of future CANS Ball Tournaments.
Maximum of 10 active players on the field at once; however, teams may consist of more than 10 players.
There are no gender rules for this tournament – anyone can play at any time!
Equipment for your team (bats, gloves, etc.) is not provided by CANS; please bring enough for your team!
Text your game score to (902) 499-2939 after each game.
Tournament Rules:
Rules shall be according to the C.A.S.A. for Slo-pitch.
Runs for and against: The +/– 7 rule will apply. The maximum runs that a team can win or lose by is 7, regardless of the score. (ie: if a team wins by more than 7 runs, the runs 'for' will still be +7. Same will apply for the losing team, if a team loses by more than 7 runs, the runs against will be – 7).

 

Forfeit games: winning team +7 runs, losing team –7 runs.

To ensure all games conclude within the alloted 75 min., no new innings will start after the 1:05 hour mark in a game. (ie: if a game is in its sixth inning at the 65 min. mark, the sixth will be the last inning played). If the score is tied at the conclusion of that last inning, the win goes to the team who was leading at the end the previous inning (in this case, 5th). That winner will receive a +1 rating (regardless of their lead after the last completed inning).

The Captain or Coach from each team must give their score to the umpire after each game.

Games will be seven innings long with a maximum of five runs per inning. An exception is the seventh inning, which will be an open inning.

Homerun Rule: Match +3.

The 12-run rule will be in effect, thus, a team leading by 12 or more runs by the end of the fifth inning will have the game awarded to them.

In the event of a tie game, teams will play extra innings to break the tie without exceeding the allotted 75 min. per game.

The top two teams from each division will advance to the playoffs.

Divisional ties will be broken as follows:

two-way tie for 1st place: The team who has won the game between the two teams will be divisional winner. 

three or four-way tie: The two teams with the best runs 'for' and 'against' will be the teams advancing to the playoffs. The divisional winner would be the team who won the game between these two teams in the round robin.

The home team will be decided by a coin toss. The home team will not bat in the bottom of the seventh inning if leading.

A commitment line will be used at home plate for all games.

Steel cleats are not allowed.

If a male batter is walked, and followed by a female batter, the male automatically gets to go to second.

A maximum of one pinch runner allowed per inning. The pinch runner must be last out before the batter.

A player must play in the round robin to be eligible for the playoffs.

No player may enter a game after the 3rd inning is completed.

A player can only play for 1 team per division. Any player caught playing for 2 or more teams in one division will get a verbal warning. A second occurrence will result in ejection from the tournament
FIELD MAP: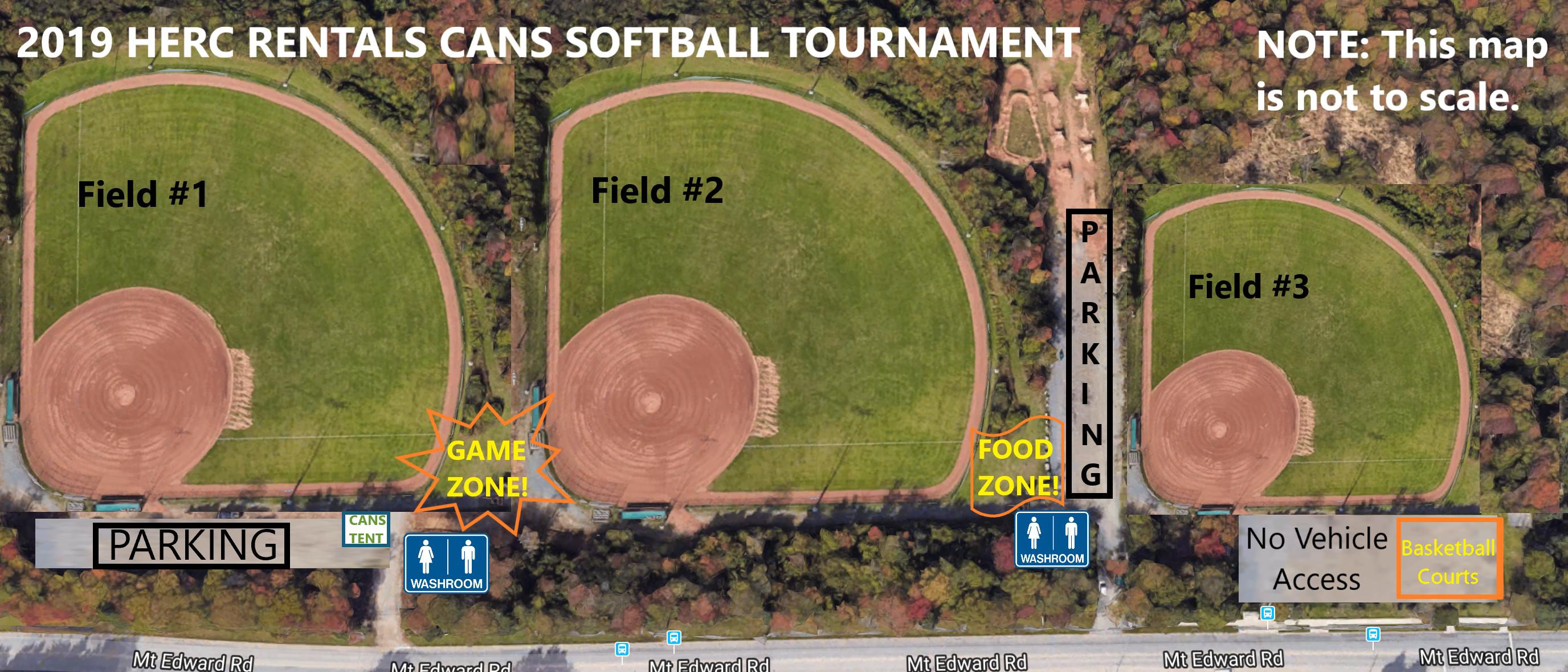 Questions?
Michelle Peters
Events Lead, Construction Association of Nova Scotia
902-818-6530
mpeters@cans.ns.ca