You're Invited to CANS De-Icer!
The construction season is heating up, which can only mean one thing — the return of CANS De-Icer! On May 13, join CANS for Nova Scotia's largest construction networking event of the year. The pandemic has lasted longer than any of us anticipated — help us celebrate the resilience of our industry and communities with your colleagues. With attendees representing the full spectrum of industry professionals, the 2022 CANS Home Depot PRO De-Icer is a must-attend event.
Event Information
Date: Friday, May 13, 2022
Time: 5:00 – 11:00 p.m.
Location: Halifax Convention Centre (Halifax NS)
Registration: NOW CLOSED! Did you miss registration? Entry-only (no meal) tickets will be on sale at the door of the Halifax Convention Centre day of. (Call Britney MacNeil, Events Lead at 902-499-2939
with any questions.)
Sponsorship: CLOSED!  For future event opportunities, view our 2022 Sponsorship Guide, and contact Michelle Peters to claim your sponsorship opportunity.
Suggested dress code for attendees: Business casual, but attire typically ranges from casual (denim/t-shirt) to semi-formal (suit/dress).
Agenda
5:00 p.m. Doors Open
6:00 – 8:00 p.m. Buffet Dinner

After your meal, be sure to visit the Dessert Station and the Coffee & Tea Station!

8:00 p.m. Entertainment – The Mellotones
10:45 p.m. Last Call
11:00 p.m. Event Close
Door Prizes
For a chance to win a door prize, you can drop your business card or fill out a ballot at the door prize table!
Are you interested in donating a door prize to the De-Icer?! Contact Michelle Peters at mpeters@cans.ns.ca, or 902-818-6530.
Evening Entertainment: The Mellotones!
Get ready to boogie the night away with high-octane dance party from The Mellotones! CANS is excited to celebrate the return of our first in-person De-Icer since 2019 with a night of exceptional entertainment for the young and the young at heart. Read more about The Mellotones here.
Ticket Information
Entry to CANS De-Icer comes with a variety of ticket options. Choose from one of three entree choices, a chicken & pork combo, a vegan-friendly option, a traditional lobster dinner, or choose to skip dinner and purchase an entry-only ticket and use the extra time for networking and enjoying the evening's entertainment.

NOTE: Guests must be of legal drinking age (19+) to attend this event. This event is general seating.
Entry with Lobster Dinner
Members: $109.00
Non-Member: $139.00
Entry with Chicken & Pork Dinner
Members: $89.00
Non-Member: $119.00
Entry with Vegan Dinner
Members: $89.00
Non-Member: $119.00
Entry-Only (no meal)
Members: $50.00
Non-Member: $70.00
Drink Ticket (includes gratuity)
PLEASE NOTE: The venue's bars cannot run tabs. To purchase drinks at the 2022 De-Icer, please either pre-purchase drink tickets through CANS (which include gratuity!), buy drink tickets on-site (purchase from the dedicated drink ticket table!), or buy individual drinks at the bar using credit cards, debit cards and cash.
Members: $7.10
Non-Member: $7.25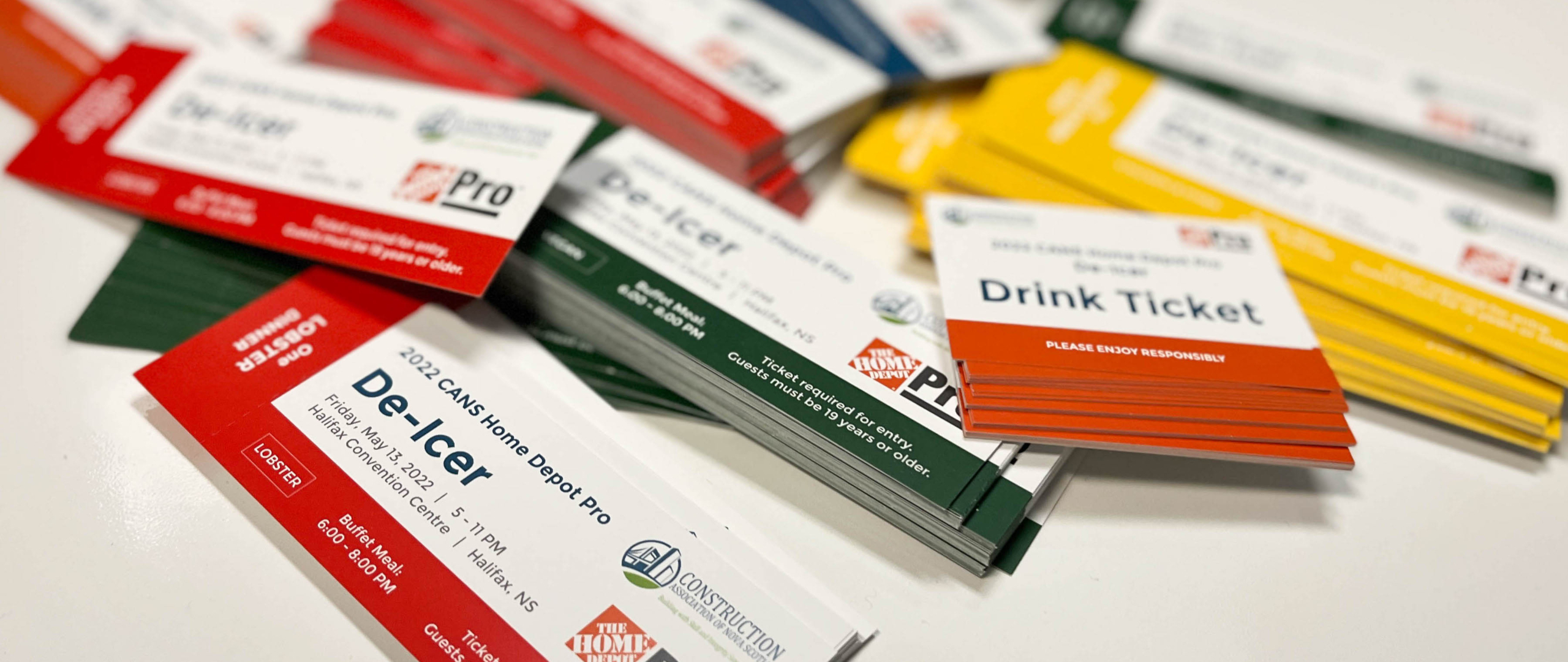 New for 2022! Treat Your Team to a Table! SOLD OUT! Tables of 10 are all booked — claim your individual tickets before it's too late!
With restrictions easing and summer projects heating up, take this opportunity to celebrate your hard work and resilience with your colleagues! This year, CANS has introduced the option to purchase a table of 10. In addition to CANS-prepared, branded signage reserving your table, you will also have the opportunity to arrive at the venue a bit early to decorate your table if you wish (e.g. a table cloth, centrepiece, etc.).
Please note that we are proactively planning for all of CANS 2022 events to ensure that we do our part to limit the spread of COVID-19. We are continually monitoring the pandemic and carefully following Public Health's guidelines and directives.
Transportation / Parking
Need a little help parking or getting around in downtown Halifax? CANS has put together a helpful guide on transportation alternatives, as well as where you can park when attending the 2022 CANS Home Depot Pro De-Icer! Click here to access the parking guide. 
Need a Room for the Night?
Looking to Revisit Our Last De-icer?
How will I receive my tickets?
If you selected MAIL when you purchased your tickets online, your tickets will be mailed directly to your chosen location on either Monday, April 11, 2022 or on Monday, May 2, 2022, depending on the date of purchase. Tickets will only be mailed once payment has been received.
If you selected PICK-UP when you purchased your tickets online, you can pick-up your tickets at the CANS Burnside Office between 12:00 pm and 5:00 pm on Thursday May 12, or on Friday, May 13 at 5:00 pm onward at the door.  All tickets not picked up on May 12 from the CANS Office will be held at the door of the Halifax Convention Centre for pickup when doors open at 5:00PM on Friday May 13. (There will be NO pick-up exceptions.) A Welcome Table will be at the Event Entrance for those who have not picked up their tickets in advance at the CANS Office. All tickets must be paid for before/at pickup. Methods of payment accepted are cheque or credit card (VISA, AMEX, and MC).
How do I add tickets to my online order? 
You can't add tickets to a current order, but you can log on to CANSnet and make a second order for the new ticket(s); please make a note on the order, referencing the invoice number of your first order(s).
How do I change my current order?
Email your change request to bmacneil@cans.ns.ca.
When will I receive a receipt? 
Your receipt will be automatically generated and emailed to you by CANSnet when you order online. If you do not receive your confirmation email and paid invoice, please email Britney at bmacneil@cans.ns.ca. Have your invoice number on hand.
For Event Info, Contact:
Britney MacNeil
Events Lead
T: 902.468.2267 ext. 704
C: 902.499.2939
bmacneil@cans.ns.ca
For Sponsorship Info, Contact:
Michelle Peters
Sponsorship Lead
T: 902.468.2267 ext. 718
C: 902-818-6530
mpeters@cans.ns.ca