CANSTech 2020
The Construction Technology and

 

Innovation Trade Show
Thursday, February 27, 2020
Cunard Centre, Halifax, NS
Presenting Sponsor:

After a successful inaugural event in 2018, the Construction Association of Nova Scotia (CANS) is pleased to announce CANSTech 2020 – the construction technology and innovation trade show! Teaming up again with our Presenting Sponsor, Procore, we are excited to bring you another round of world-class speakers and some of the best innovations our industry has to offer.
Join us on February 27, 2020 at the Cunard Centre and keep an eye on this page for more information.
Have you Downloaded CANS Events app for CANSTech 2020?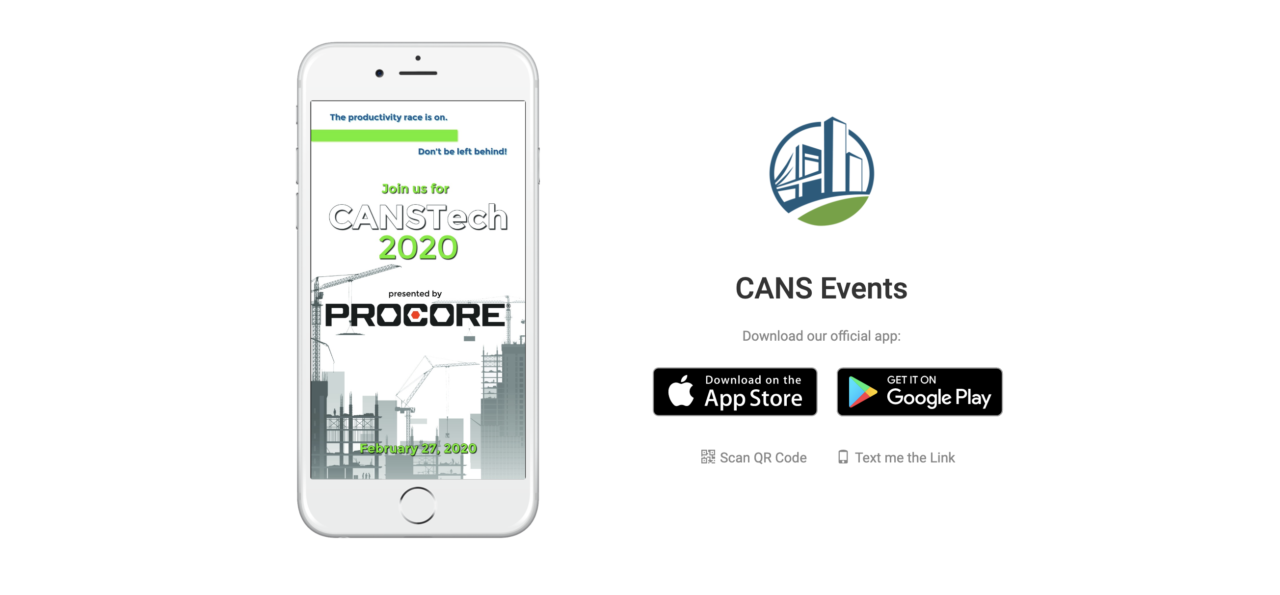 Stay up to date with all of the latest CANSTech 2020 information, download our app (for ios and Android) to stay current on speaker sessions, exhibitors, fellow attendees and more. PLUS, take part in some in-app games during CANSTech to optimize networking opportunities!
#CANSTech
CANS is currently accepting final-round applications for exhibitors for CANSTech 2020, February 27, 2020 at the Cunard Centre.
Get the most out of CANSTech 2020, apply to be an exhibitor at the event. Your company will be featured throughout promotional materials leading up to the event, so the earlier you sign up, the better! Not to mention, you will get the chance to engage with more than 1,000 anticipated attendees day-of!
Exhibitors: DON'T MISS OUT — LAST CHANCE TO APPLY!
Is your company breaking new ground in the construction industry? Seeing is believing, so we're seeking exhibitors who will actively engage attendees with quality experiences and hands-on demonstrations. Let us know how you would stand out from the crowd, APPLY NOW to be an exhibitor at CANSTech2020 before January 17, 2020.
Sponsors:
Does your company embrace technological advancements and/or new innovations readily? CANSTech prides itself highlighting new innovations and technologies, so we're seeking sponsors who will support our mission to keep the construction industry nimble and adaptable to technological growth.
Find out more on sponsoring CANSTech 2020: take a look at our full list of sponsorship opportunities, or REGISTER NOW — no application needed — as a sponsor, contact Natalie Bobbitt, Sponsorship Lead.
Speakers/Sessions
9:00-10:15 AM Keynote:
Speaker: David Coletto, CEO Abacus Data
Topic: What generational change means for the workplace and the future of leadership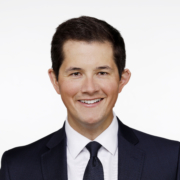 About this session: There are powerful new forces at work in the modern workplace, a dynamic driven by the intersection of disruptive technology and a new generation of employees who were raised differently, have different values and different expectations. Managing this change and embracing not just about survival, but what will make the difference between firms that excel and those that struggle.
Through an engaging, data-filled presentation, David will argue that a generational lens is needed by all firms large or small, who are seeking to understand the dynamics at work in the market.
10:45-11:45 AM Session:
Speaker: Jonathan Marsh
Topic: A 360 degree look at BIM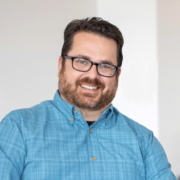 About this session: Working within building information modeling (BIM) software is exciting and challenging for most construction companies. It's easy to pick a software, jump in, and start modeling, but it's important to take the time to plan the right BIM workflow for your business. This presentation will discuss the fundamental steps from estimating, pre-construction, detailing, all the way through the fab shop to ensure a successful implementation of BIM.
1:00-2:00 PM Session:
Speaker: Jonathan Marsh
Topic: Why It's Time to Embrace Technology, Offsite Construction and Lean Methodology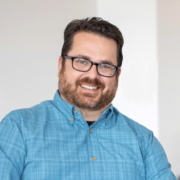 About this session: Offsite construction is the future of construction. In this presentation we will discuss the benefits and challenges our industry is facing adopting offsite construction methods.
We will also discuss common terminology and practical applications when it comes to kitting, prefab and modular construction and the roles we all play in this not so new concept.
Accommodations
Take advantage of the CANS room block at the Westin Nova Scotian hotel, with rates starting at $139 per night! Book your group rate for Construction Association of Nova Scotia.  The deadline to book is February 6, 2020.
Catch up on CANSTech 2018
CANS Members click HERE to watch the Speaker Presentation videos from CANSTech 2018!
The inaugural CANSTech – the Construction Technology and Innovation Trade Show – was held on November 20, 2018 at the Cunard Centre in downtown Halifax, Nova Scotia.
CANSTech united exhibitors, sponsors and world-class speakers to showcase new technologies, upcoming trends and innovative products all under one roof. Attendees from our membership, government and supporting industry organizations were in the room to view, learn and make business connections!
Attendees heard from world-class Keynote Speaker James Benham, JBKnowledge, speak about how today's tech is disrupting the world's oldest industry. Rob McKinney, JBKnowledge, outlined the top five workflows that contractors can optimize with mobile apps. Attendees then heard Jeff Sample, JBKnowledge, describe how to select and integrate the best solutions for their projects.
The CANSTech Construction Innovation Panel Discussion heard from panelists as they described their experiences with embracing innovations and implementing them within their organizations. Panelists included Jean Léger, Industrial Research Assistance Program (IRAP), Jas Saraw, Procore Technologies, Dr. Ivanka Iordanova, Pomerleau and Jamal Mohammed, SITECH Mid-Canada. The panel was moderated by Trent Soholt, The Nova Scotia Construction Sector Council.
For speaker bios, exhibitor bios and more, check out the CANSTech Show Guide, click HERE.
Check out the CANSTech Wrap-Up Video! Click HERE.
Do you have photos you'd like to share?
Alison Clack, Marketing & Communications Lead
aclack@cans.ns.ca