Construction Statistics: Highlights for Labour Force Survey & Trends (May 2022)
Nova Scotia's Finance and Treasury Board released the following statistics on June 10, 2022. Please click here to see the full dataset provided for Labour Trends. You can find more information from the Labour Force Survey here.
Note: Labour force survey results reflect the period from May 15 to 21. 
Overall Labour Market Highlights:
Comparing May 2021 to May 2022 in Nova Scotia,
Labour force increased 22,500 (4.6%)
Employment increased 35,100 (7.9%)
Unemployment decreased 12,600 (-26.8%)
Unemployment rate decreased 2.9 percentage points
Age Cohort Highlights:
Among youth (ages 15-24), employment decreased 1,200 (-1.8%) while the labour force increased by 400 (+0.5%).

The increase in the labour force resulted in the youth participation rate increasing to 68.2% while the employment rate fell to 60.1%.
Industry Highlights: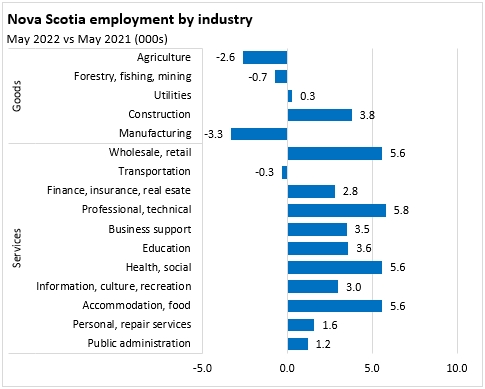 Over the last 12 months, employment has risen across almost all industries with the notable exceptions of agriculture, forestry/fishing/mining, manfuacturing and transportation.