Construction Pulse – Issue 3, Spring / Summer 2022 is NOW ONLINE!
The third issue of Construction Pulse, the Construction Association of Nova Scotia's industry magazine, is now live!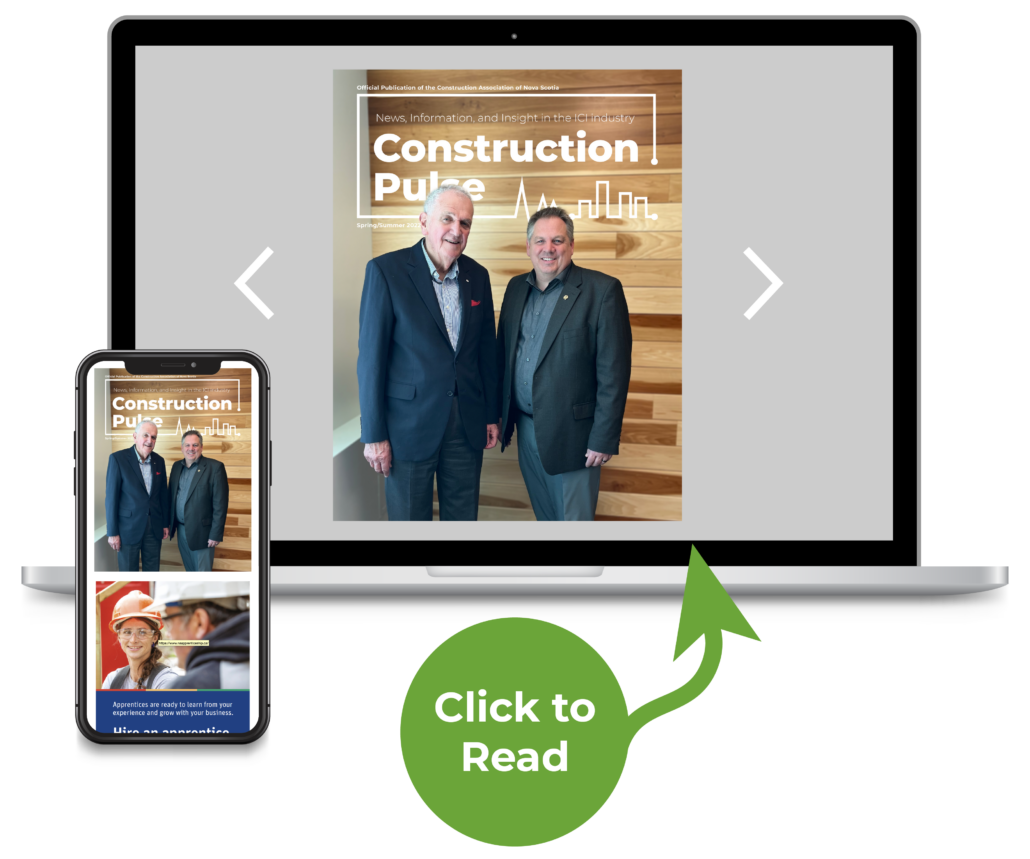 READ CONSTRUCTION PULSE: To access the digital version of Construction Pulse, click here.
A physical copy of Construction Pulse has been mailed to your company's Profile Administrator and should be arriving in their mailbox over the course of the next week. If you would like your own copy, please email constructionpulse@cans.ns.ca
Construction Pulse was created to provide members with a resource specific to their businesses in the industrial, commercial, and institutional sectors of Nova Scotia's construction industry.
In this issue, you will find information on current industry best practices, emerging trends and topics to keep an eye on, relevant and pivotal issues impacting industry, and member successes and accomplishments we're celebrating.
CONSTRUCTION WORD SEARCH CHALLENGE
Can you find all of the hidden words? There are 39 member categories included in the word bank. If you can find them all and send us your completed sheet before September 1, 2022, you will be entered into a draw for a CANS Prize Pack (valued at $50). (The winner of which will be announced on CANS social media.)
Warning, this word search is HARD! Let's see how you fare — download a printable copy of the word search below.
DOWNLOAD NOW: Click here for a print-ready pdf. 
ADVERTISERS
Thank you to our advertisers whose support has helped make this issue of Construction Pulse possible!
AB Tech
Northbridge Insurance
Nova Scotia Apprenticeship Agency
Strongbond
Sunbelt Rentals (formerly MacFarlands Industrial)
Travelers
Workers Compensation Board (WCB)
Beacon
Efficiency One
Government of Nova Scotia
Heritage Gas
RKO Steel Limited
SDMM
Stanhope Simpson Insurance
Cooper Equipment Rentals
Halifax Chamber of Commerce
Marco