Construction Pulse – Issue 4, Fall/Winter 2022 is NOW ONLINE!
The fourth issue of Construction Pulse, the Construction Association of Nova Scotia's industry magazine, is now live!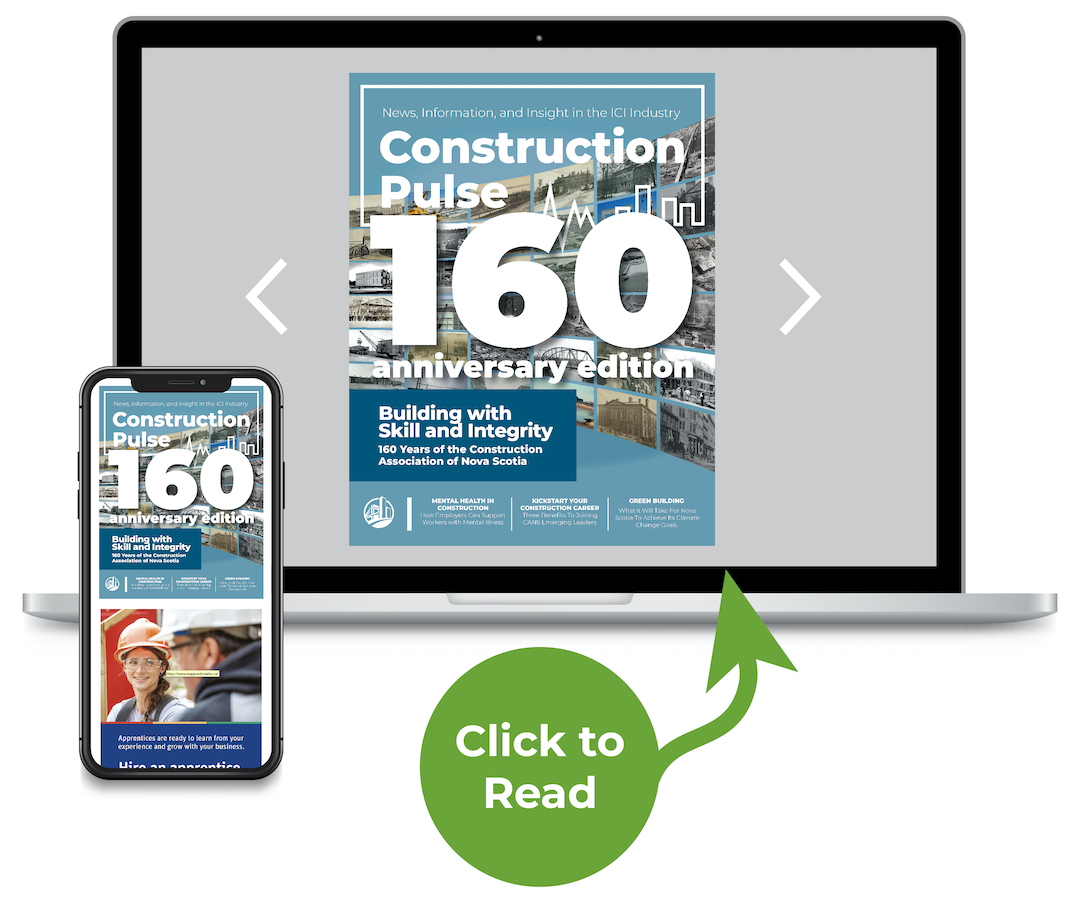 READ CONSTRUCTION PULSE: To access the digital version of Construction Pulse, click here.
A physical copy of Construction Pulse has been mailed to your company's Profile Administrator and should be arriving in their mailbox over the course of the next week. If you would like your own copy, please email constructionpulse@cans.ns.ca
Construction Pulse was created to provide members with a resource specific to their businesses in the industrial, commercial, and institutional sectors of Nova Scotia's construction industry.
In this issue, you will find information on current industry best practices, emerging trends and topics to keep an eye on, relevant and pivotal issues impacting industry, and member successes and accomplishments we're celebrating.
ISSUE 4 STORIES
CANS 160 — building with skill and integrity for 160 years
CANS policy and advocacy updates
A roadmap for change: Canadian Construction Association's (CCA) strategic priorities
Mental health in construction: how employers can help employees living with mental health issues
Building community connections: a look at TradesCAN and the Native Council of Nova Scotia
Kickstart your construction career: three benefits of joining CANS Emerging Leaders
Building information technology: tools for innovation and productivity in the construction industry
Green building: what it will take for Nova Scotia to achieve its climate change goals
ADVERTISERS
Thank you to our advertisers whose support has helped make this issue of Construction Pulse possible!
Canadian Construction Association (CCA)
Cooper Equipment Rentals
Efficiency Nova Scotia
Government of Nova Scotia – Safety Branch
Intact
Nova Scotia Apprenticeship Agency (NSAA)
PCL Construction
rcs construction Inc.
Stanhope Simpson Insurance
Strong Bond Coatings Inc.
Travelers Canada