Gold Seal Certification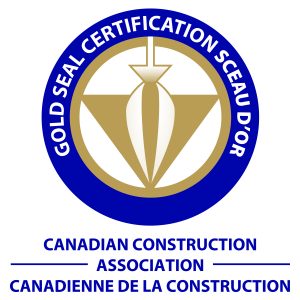 The Gold Seal Certification program was created by the industry for the industry. It has quickly become a standardized program supporting the development of skilled and serious Construction & Heavy Civil management professionals across Canada.
The Gold Seal Certification program upholds Canadian Heavy Civil & Construction management professionals to expectations and standards of excellence. All Gold Seal certified management professionals have been assessed and meet the Gold Seal standard requirements of industry knowledge, experience, education and training. Gold Seal is a national construction standard of certification, displaying a desire to uphold and distinguish one's competency in Construction or Heavy Civil management above all others.
Learn more about Certification Streams.
Learn more about the Certification process. 
Upcoming Gold Seal Exam Dates:
January 19, 2018
Application submission deadline December 15, 2017
April 20, 2018
Application submission deadline March 9, 2018
Gold Seal Projects
Across Canada, Gold Seal Projects are showcasing the value of Gold Seal Certified professionals. Gold Seal projects are a reflection of experience, competency and excellence in the management of a construction project. If you would like to gain additional exposure for your construction project and raise the level of your management staff's professionalism, you should consider registering as a Gold Seal Project.
In a Gold Seal Project, a construction company works with their local construction association and the Gold Seal Certification program to jointly promote Gold Seal as part of a construction project. The objective is to educate non-certified workers about Gold Seal Certification and to honor those who have earned their certification by the end of the project.
Get more exposure for your next major project by registering it as a Gold Seal Project. Benefits include:
Promote the value of Gold Seal Certified professionals on your project site
Demonstrate your ability to manage and undertake challenging construction projects
Showcase your company's professionalism and expertise in the construction industry
Educate non-certified staff about the value of Gold Seal Certification
Featured Project: Halifax Harbour Bridges, The Big Lift
Halifax Harbour Bridges embarked on a significant and necessary project in early 2015: the replacement of the suspended spans of the Macdonald Bridge. The bridge remains safe but after 60 years, the deck is wearing out and needs to be replaced. The project, also known as The Big Lift, aims to extend the life of the bridge and reduce maintenance. The work was done mostly overnight with several weekend bridge closures over the 18-month period. This is only the second time that the suspended spans of a suspension bridge will be replaced while keeping the bridge open to traffic.
Watch the time-lapse video documenting The Big Lift.
Gold Seal Certified CANS Members
To learn more about becoming Gold Seal Certified or Gold Seal Projects:
Alain Lefebvre
Manager, Industry & Corporate Education
alefebvre@cans.ns.ca