UNB OCRC Transforming Construction 2021: Interactive Webinar Series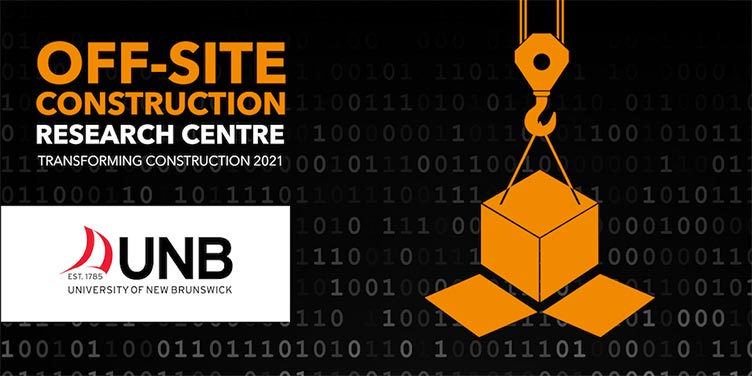 Join the Off-site Construction Research Centre (OCRC) at the University of New Brunswick for Transforming Construction 2021, a webinar series comprising presentations and panel discussions by industry experts from Canada, the United States, England, Scotland, New Zealand and Poland.
Secure Your Seat —
REGISTER NOW: Space is limited — secure your spot now! (All events will be recorded; registered attendees will have access to the recordings.)
CANS Member Discount Available —
Special discount available to CANS Members: use discount code TC21CANS to receive 15% off any webinar or webinar package.
Schedule and Next Sessions  —
This series kicked off May 5 and sessions are planned through to August. Click here to see a full schedule and list of topics.
| | |
| --- | --- |
| May 19 | 12:30 – 2 p.m. ADT | Ewelina Woźniak-Szpakiewicz (DMD Modular) | Efficiency: Volumetric Modular Construction in the Context of Architectural Design and Sustainable Approach |
| May 26 | 12:30 – 2 p.m. ADT | Mohamed Adel (BIRD Construction) | Digital construction implementation at BIRD |
| June 2 | 12:30 – 2 p.m. ADT | Ryan Smith (Washington State University and MOD X) | Off-site business and product platforms |
| June 9 | 12:30 – 2 p.m. ADT | Kevin Read (Nomodic) | Case Study: Solving industry and societal challenges with modular construction |
| June 16 | 12:30 – 2 p.m. ADT | Carlo Carbone (Université du Québec à Montréal) | A current research project: a multi-user DfMA platform for residential buildings |
| June 23 | 12:30 – 2 p.m. ADT | Chris Rausch (moderator), Z Modular (moderator), Aaron Holm (Blokable), Colby Swanson (Modular Mobilization Coalition), Royston Rebello (NRB Inc.) | Panel Discussion: Innovative Business Models in Modular Construction: from COVID to Affordable Housing |