Thank You For Attending CANS Emerging Leaders 18th Annual Curling Bonspiel!
CANS Emerging Leaders reconvened for an evening of friendly competition and curling at the annual Emerging Leaders Curling Bonspiel. Twelve teams competed in the tournament, which took place at the CFB Halifax Curling Club on Friday, March 25, 2022.
Thank you to everyone who attended!
Congratulations to our Tournament Winners —
We are pleased to congratulate the top finishing teams!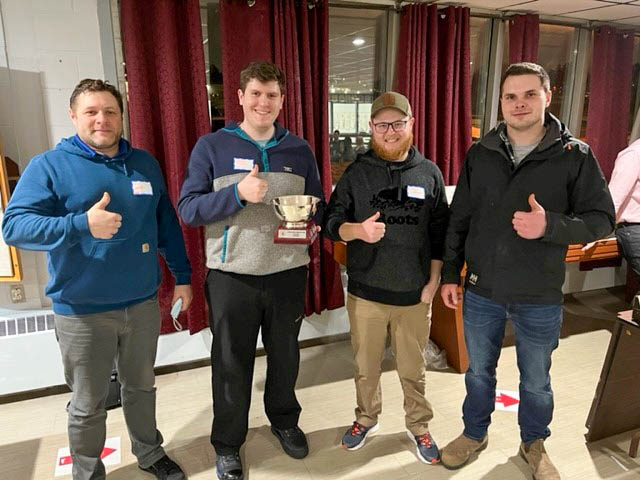 FIRST PLACE: Jesse Geldart, Bailey MacDonald, Chris Kennedy, Robert Mayhew (pictured)
SECOND PLACE: Justin Davis, Matt MacEachern, Steve Turnbull, Robert Rooney
THIRD PLACE: Suzanne Lewis, Brandon Howard, Amit Gandhi, Keegan Wilson
Contest Winners —
The Draw To The Button Contest went to Brandon Howard (Sansom Equipment). And the lucky winners of our door prizes were, Madeline Whitehouse (DesignPoint Engineering & Surveying), Ben Crouse (Strum Consulting), Keegan Wilson (Intact Insurance Company) who each took home a $25 NSLC gift card. Congratulations to all winners!
50/50 Raffle in Support of Habitat for Humanity —
CANS Emerging Leaders Committee are proud supporters of Habitat for Humanity Nova Scotia, raising money towards their goal through a 50/50 raffle at each event.  The winner of our Bonspiel 50/50 raffle was Caleb Sager (Iron Maple), who generously donated his winnings back to the cause. The total amount raised at this event, including Caleb's donation was $335 — great job all!
Tell Us What You Thought!
If you attended the 2022 Emerging Leaders Curling Bonspiel and would like to give feedback, please visit the online survey here: https://www.surveymonkey.com/r/Z99ZJ73  (We ask that you kindly complete this survey by Friday, April 15, 2022).
Catch Up On What You Missed —
Were you not able to attend our Bonspiel? Sneak a peek at what you missed! You can find event photos on CANS Flickr, click here to see what our Emerging Leaders were up to.