Honouring Black Excellence in the Nova Scotia Construction Industry
February is Black History Month. Although February has been designated as the official month to celebrate Black history, every day is an occasion to highlight the monumental significance of Black Nova Scotian contributions and the vital role they have played in shaping Nova Scotia's past, present and future.
Join CANS as we celebrate the achievements of Black Nova Scotians who are building our communities and advancing the construction industry. CANS will honour Black excellence in our industry through profiles of individuals, businesses and organizations, as well as provide tools and resources to help support your organization.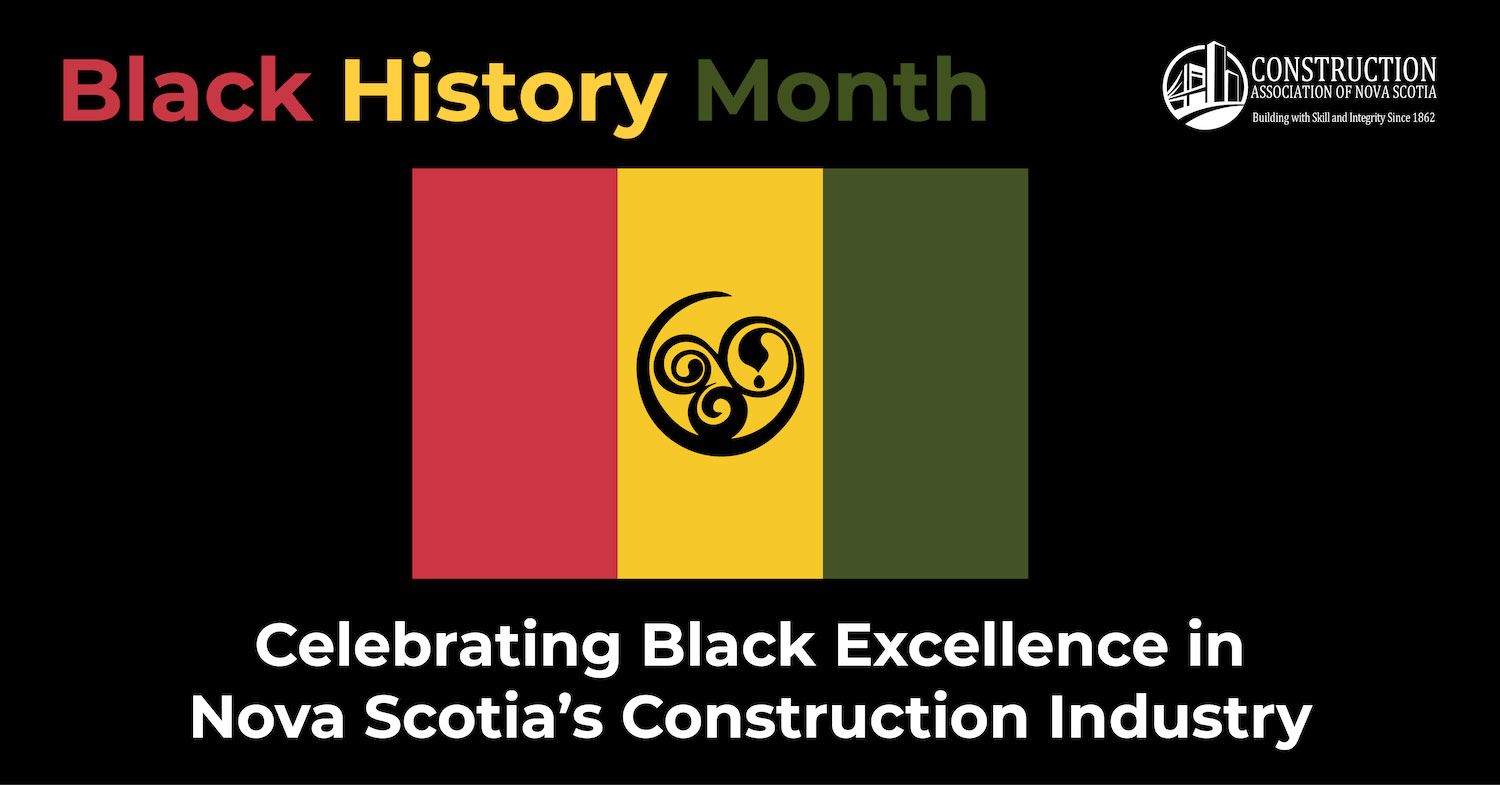 What is Black History Month?
During Black History Month, people in Canada celebrate the many achievements and contributions of Black Canadians and their communities who, throughout history, have done so much to make Canada the culturally diverse, compassionate, and prosperous nation it is today. Learn more about Black History Month in Canada here.
The African Nova Scotian Flag
Designed by Wendie L. Wilson, this flag was unveiled in 2021. Learn more about the meaning of the African Nova Scotian flag and the story of its creation and adoption from the Africentric Learning Institute of Nova Scotia.
Profiling Black Excellence in Construction
Tanya Reddick
Get to know Tanya Reddick, Building Futures for Youth Program Lead, CANS
The Building Futures for Youth program provides Grade 10 & 11 students with an opportunity to explore careers in the construction industry.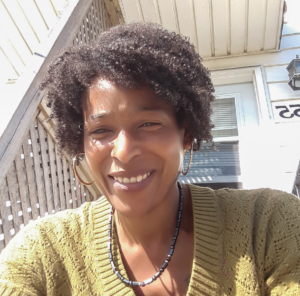 Tell us what you like to do outside of CANS. What are you passionate about?
I enjoy coaching youth basketball. Watching folks develop skills and grow is inspiring to me. I also continue to play basketball and softball, hike trails and travel. I am passionate about helping others help themselves.
Tell us about what you do at CANS.
In my role as Building Futures for Youth (BFY) Program Lead, I coordinate with key industry & community partners to promote BFY program awareness and ensure career exploration opportunities for Nova Scotia youth.
What made you want to apply for a career at CANS?
I have always had an interest in the construction industry from my appreciation of developing and building things. I was working as a property manager when I saw a posting for Members Services Specialist. It was time for a change and an opportunity to learn more about the industry.
How have your role and responsibilities evolved over your time with the Association?
In my former, role I met and greeted members and partners. I was responsible for providing services but mostly from behind the scenes. As I attended more CANS events I had a chance to engage with the members more. In my new role, I will connect with youth and community members to help bridge gaps and build relationships with partners.
What made you want to apply for your current role as Community Engagement Lead?
I felt comfortable enough in my former role that I wanted to do more with CANS and for the industry. I saw an opportunity to help folks help themselves.
What do you like about working in the construction industry?
I like the collaboration among different groups. How the professionals, trades and service providers work together to create a vision. I also appreciate the long-term maintenance of the finished product. I enjoy the growth and learning opportunities too.
What is your proudest moment or accomplishment in your career?
Thus far, it was being offered the BFY Engagement Lead role. I feel like I have worked hard over the years and this is the level up. It is new to me and necessary for us.
What do you hope to achieve in the next 5 years?
To help increase the stream of youth workers and owners that will filter into the industry to keep it thriving.
What excites you about the future of CANS, community engagement and the construction industry?
Enlightening youth to the endless opportunities in the industry. There is something for everybody.
What does being black and working in this industry mean to you?
It means working in an industry that is continuing to make strides toward an inclusive workplace. It means the opportunity is open to me too. It means being accepted for who I am and what I can contribute.
What piece of advice would you give to a black person considering a career in construction?
Show up and do your best work.
Black History in Nova Scotia
Black Loyalists Arrival in Nova Scotia –
During the American Revolutionary War thousands of African Americans, most seeking to escape enslavement, fought for the British in exchange for "Freedom and a Farm." The better life the Loyalists sought did not come without cost. Learn more about the arrival of Black Loyalists in Nova Scotia.
Contributions of Jamaican Maroons –
Read about the history of the Jamaican Maroons, who in their short time in the province helped build the city of Halifax, including some of its greatest landmarks, the waterfront, Government House and Citadel Hill. Learn more.
Refugees from the War of 1812 —
A third wave of Black migration into Nova Scotia came during and after the War of 1812, once again in connection with an international conflict. As had happened during the American Revolution, the British once again issued proclamations aimed at attracting Blacks in the United States to relocate to British colonies. As with the Black Loyalists, a large number of American Blacks once again chose freedom in Nova Scotia over slavery in the United States. Learn more.
Arrival of Caribbean Migrants —
A fourth major migration of Blacks to Nova Scotia – more specifically to industrial Cape Breton – began early in the 20th century. It came in two separate streams, one from Alabama and another from the Caribbean, especially Barbados. These groups came not in a quest for freedom but to obtain good-paying jobs in the newly developing steel and coal industries. Learn more.
No. 2 Construction Battalion –
The No. 2 Construction Battalion was the only Canadian battalion in the First World War composed of Black soldiers. The No. 2 Construction Battalion was raised in Nova Scotia in response to petitions by Black men who wanted to serve their country but were turned away at recruiting offices. Learn more.
The Story of Africville –
Black people have lived in Nova Scotia since before the founding of Halifax in 1749. Because of racism, Black settlers were pushed to the margins of society. Despite this, they persevered, developing strong, vibrant communities. Africville was one such place.
In January 1964, Halifax City Council voted to authorize the relocation of Africville residents. Those who refused could have their lands expropriated by the city. In the end, despite resistance, all residents were relocated. Learn more about the history and destruction of Africville. 
Dynamic Rural Business Series: Rural Black Businesses
Host(s): Black Business Initiative (BBI) and the Sobey School of Business
Date: Monday, February 6, 2023
Time: 5 – 8 p.m.
Location: Halifax International Stanfield Airport
Overview: The Black Business Initiative (BBI) and the Sobey School are teaming up to present the Dynamic Rural Business Series: Rural Black Businesses. This event will highlight rural black businesses, hear from their owners, and create a network of support.
Register Now: Click here to register for this event.
(Webinar) Business Support Series: Exploring Intersectionality
Host: Halifax Chamber of Commerce
Presenter: Kendell Darling (co-founder, Pilot X Technologies)
Date: Tuesday, February 7, 2023
Time: 10 – 11 a.m.
Location: Online
Overview: Although it has become commonplace for companies and organizations alike to adopt diversity, equity and inclusion initiatives, this work has almost always excluded intersectionality. This workshop will discuss the importance of intersectionality and provide tangible examples of how business owners can use the theory to strengthen their policies and practices.
Register Now: Click here to register for this webinar.
(Online) Ask a Black Entrepreneur Panel
Host: Nova Scotia Community College (NSCC)
Date: Thursday, February 9, 2023
Time: 1 – 2:30 p.m.
Location: Online
Panelists:
Overview: Tune in for the third annual Ask a Black Entrepreneur Panel event, presented by the NSCC Black and African Nova Scotian Employee Resource Network, NSCC Entrepreneurship and NSCC Alumni Relations.
Hear and learn from successful, local Black entrepreneurs who will discuss their entrepreneurship journey, from starting their business, to challenges they faced and resources available. All are welcome.
Register Now: Click here to register for this webinar.
Africadian Empowerment Academy
#InvestingInMinds & #EmpoweringLives
The Africadian Empowerment  Academy (Formerly the East Preston Empowerment Academy (EPEA)) offers Red Seal Training and various other educational opportunities for groups throughout Nova Scotia.
AEA's Services:
Red Seal training and examination
Adult learning
Math tutoring
High school GED program
LEARN MORE: visit Africadian Empowerment Academy's website.
*Are you attending CANS Construction Workforce Summit? The Africadian Empowerment Academy will be! Chat with representatives and learn more about their services on February 15. Click here to register to attend our industry job fair.
Black Business Initiative (BBI)
The BBI is the longest serving Black business development initiative in Canada.
The Black Business Initiative (BBI) was founded in 1996 by the Government of Canada and the Province of Nova Scotia to address the unique needs confronting Nova Scotia's Black business community. Since then, our organization has grown into a catalyst for job creation, equitable participation, and advancing the economic prosperity across Canada.
We support Black entrepreneurs every step of the way—from start-up and development to growth and expansion. Our goal is to help our clients compete both nationally and internationally within the broader business landscape.
BBI's Services:
Business support
Entrepreneurial development and skills training
Access to capital and resources
Marketing and communications strategies
LEARN MORE: visit BBI's website.
*Building Community Connections – BBI. In Spring 2022, CANS was proudly joined by BBI for a free informational session introducing our members to BBI's services. In case you missed it, click HERE to watch a recording of this session with BBI. 
African Nova Scotian Affairs
African Nova Scotian Affairs (ANSA) works with government, communities and partners to help provide services and programs for the African Nova Scotian community. ANSA works within the community to keep African Nova Scotians informed and to encourage involvement. ANSA also supports activities that bring African Nova Scotians together to network, share ideas and identify opportunities for development and growth.
African Nova Scotian Affairs is a division of the Department of Communities, Culture, Tourism and Heritage.
ANSA's Programs:
Community Voices
Grant program
LEARN MORE: visit ANSA's website.
Anti-Racism and Diversity Resources —