Gold Seal Designated Project: Marco Group | The Halifax Common Aquatic Facility
Project rendering of Halifax Common Aquatic Facility.
As part of the Halifax Common Master Plan, a new outdoor aquatic facility is being constructed by general contractor, Marco Group, on the Halifax common. 
"Marco has been a proud supporter of the Gold Seal program since our inception," says Allan MacIntosh, president of Marco. "We've had over 40 team members become certified and look forward to working with CANS to promote the program throughout all phases of the Halifax Common Aquatic Facility." 
MJMA, a leading recreation and aquatic facility designer, collaborated with local firms Abbot Brown Architects and Brackish Design Studio to bring the vision of the Halifax Common Aquatic Facility to life. 
The design focuses on creating a facility that not only enhances the surrounding park setting, but also enhances it. Each area of the facility will be fully accessible. 
Once complete, the pool will include a 13,500 square foot pool with capacity for 450 bathers. The pool will feature a sloped, beach-style entry and a barrier free lift to allow safe access for users of all abilities. The six-foot deep end will contain roped-off swimming lanes for lap swimmers and aquatic climbing walls.  
The new exterior water plaza will feature interactive fountain spray features and will provide entertainment for people of all ages.  
The pool change room building will contain universal (gender-neutral) change rooms and washrooms. The washroom facilities will be accessible to all visitors of the Common. Large overhangs on the facility building will provide shade and shelter for pool users, summer camp groups, and visitors to the park. 
A new building replacing the existing Pavilion will be replaced with a new building and two sections connected by a breezeway. There will be a community room with a kitchenette and a barrier-free washroom. It will house a modular stage that can be set up for both indoor and outdoor use to facilitate a variety of events.  
A key feature of the facility buildings will be a nail-laminated timber (NLT) roof. Constructed from lumber placed on its edge and mechanically fastened together, NLT involves minimal waste, is fire resistant, and is very carbon-efficient when compared to other roof deck systems. It requires little maintenance, which is aimed at reducing operating costs over time. This exposed wood, used both inside and outside, is an important aspect of the park-like spirit of the facility. 
The project is targeting net-zero and will use solar photovoltaic panels to help reduce energy consumption. 
The new facility will be easily accessed by people walking or cycling and include a tree grove to enhance the availability of natural shade. The park space will be enhanced with pathways, tables, and benches. 
The project will aim to employ people traditionally underrepresented in the construction industry including women, recent immigrants, visible minorities, African Canadian, Mi'kmaw, persons of low income, LGBTQ+ and youth.  
Halifax Common Aquatic Facility will open for use in the summer of 2023.
September 1, 2022 – Interview with, Thiago Chiarelli, GSC Project Manager, Marco
Thiago Chiarelli is a Gold Seal Certified Project Manager with Marco. We recently interviewed Thiago to learn more about his motivation to become Gold Seal Certified, how it's impacted his career, and the importance of education for construction management professionals. Read more here!
June 2, 2022 – Project Kick Off
CANS and Marco came together to place a site banner on the new Halifax Common Aquatic Facility, Gold Seal Designated Project. The project broke ground in April and is expected to be open to the public in summer 2023. Once complete, the facility will include a 13,500 square foot pool with space for 450 people, a community room with a kitchenette, a new playground, modular stage for a variety of events, and a tree grove to enhance natural shade.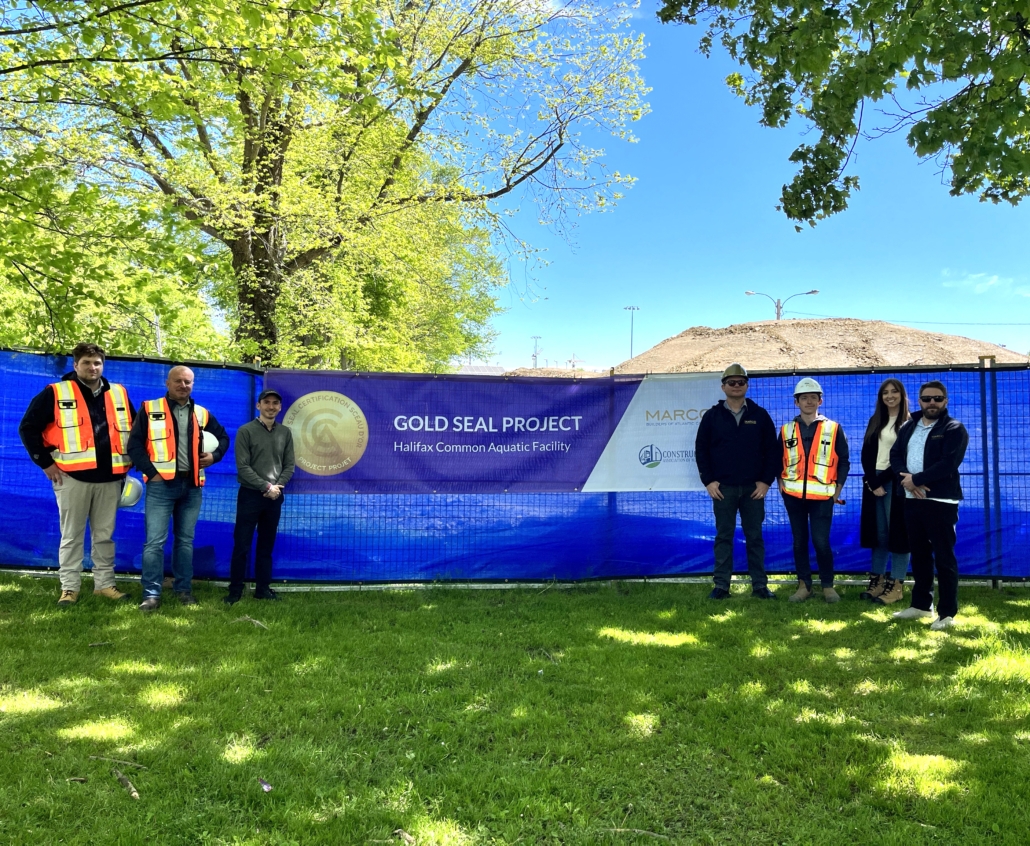 L-R: Alex Hickman (Marco, summer student), Corey Taylor (Marco, Sr. VP of Operations), Alex Linero (Marco, Assistant Project Manager), Thiago Chiarelli (Marco, Project Manager), Cameron Brow (Marco Site Superintendent), Chantal Arsenault (CANS, Director, Policy & Workforce Development), Rod Ackerman (Marco, COO)
Curious about Gold Seal Projects?
To learn more about CANS Gold Seal Projects, contact:
Tracy Gates
Manager, Education & Training Development
Construction Association of Nova Scotia
T: 902-817-5214
tgates@cans.ns.ca
Find out more about Gold Seal
Find a Gold Seal course for you
Get started on your path to Gold Seal certification. CANS Education & Training Development course calendar is almost entirely Gold Seal accredited. Take a look at our upcoming courses. Contact Tracy Gates to create your custom Gold Seal training plan.