Gold Seal Designated Project / Marco / The Halifax Common Aquatic Facility

Interview with, Thiago Chiarelli, GSC Project Manager, Marco

You currently hold the title of project manager at Marco Group Limited. Please provide us with more information about what you do at Marco and how long you've been with the company.
I joined Marco one year ago as a Senior Project Manager. Since then, I've been involved in preconstruction for several large-scale projects and am also managing two construction projects.
How did Marco support and encourage you to earn your Gold Seal Certification?
The company made clear very early on, even during the hiring process, how important the Gold Seal certification is to them and offered their support to help me achieve this certification. Marco covered all the costs for the additional education/training required, as well as the costs for the registration and exam fees.
What motivated you to become Gold Seal Certified?
Being part of a well-structured team, in a company that supports their workforce and foments personal growth within their team members, along with Marco's explicit engagement and support to the Gold Seal program made the pursuit of my Gold Seal certification a priority to me.
Has being Gold Seal Certified impacted your career? Do you have any specific examples you would like to share?
The GSC is a recognition of one's experience, knowledge and technical capacity, and it is largely recognized throughout the industry. I've found that coworkers, clients and other construction professionals demonstrate increased confidence in an individual's competency when they see the GSC initials. With that comes with an increased level of expectation that keeps certified individuals on track for continuous improvement.
How important do you feel ongoing education is for construction management professionals such as yourself?
In the always and rapidly evolving construction industry, high quality, ongoing education is required to keep the professionals up to date with the most recent technologies, methods and processes.
How did CANS support you on your Gold Seal journey?
CANS provided the required education that allowed me to apply for the Gold Seal exam, and they were also the bridge to register for the Gold Seal exam itself.
Do you have any advice for someone considering obtaining their Gold Seal Certification?
Invest in it. Invest your time to take the additional education required and invest the time to take the test. If your employer doesn't support you in that pursuit, their priorities may not be aligned with the industry and your own. The GSC will open doors to better opportunities and will reflect your commitment to career excellence.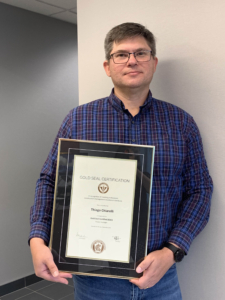 Thiago Chiarelli
GSC Project Manager, Marco
Construction Association Of Nova Scotia
Looking for more information the Gold Seal Designated Project, The Halifax Common Aquatic Facility? Learn more here!