National Building Permits Increase in November 2021
Changes in monthly building permit values are typically very volatile, with large swings from one month to the next.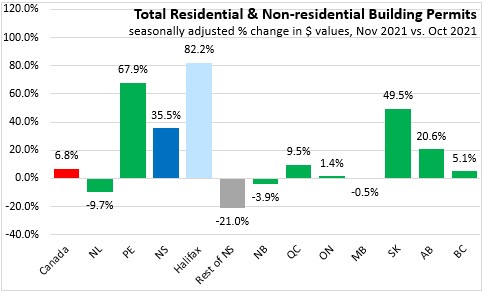 Highlights:
Nova Scotia's total building permits (residential and non-residential) increased 35.5% to $275.4 million.

Halifax permits increased 82.2% to $202.7 million.
Outside the city, permit values decreased 21.0% to $72.7 million.

National permits increased 6.8% to $11.19 billion.
Building permit values were up in 7 of 10 provinces, led by Prince Edward Island and Saskatchewan.
LEARN MORE: Click here to find the full release on 'Building Permits (November 2021)'
Statistics in the News