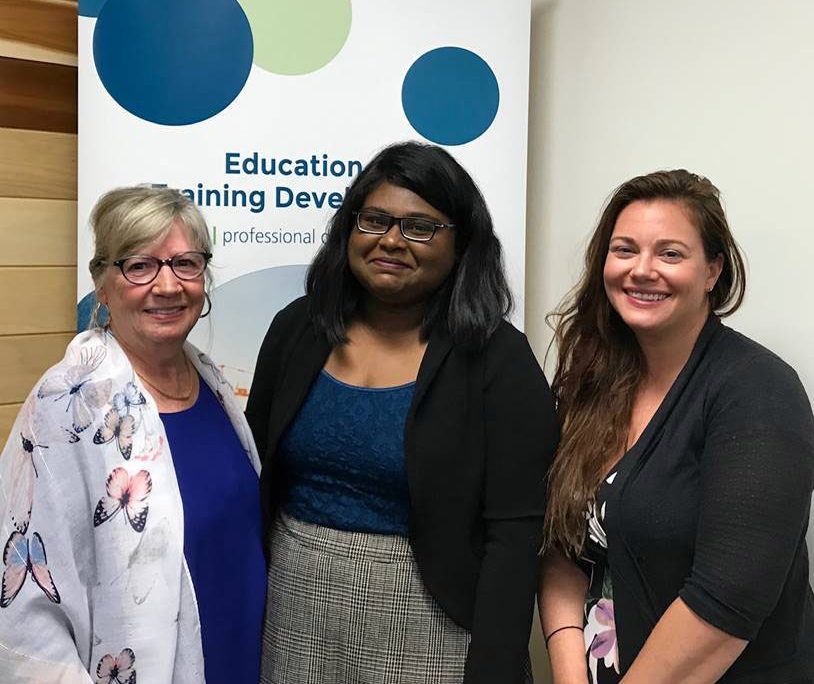 David Oulton's memory continues to support construction industry through recently awarded NSCC scholarship.
(HALIFAX, NS — September 6, 2019) The David Oulton Memorial Scholarship was awarded for the first time to Sanchari De, at Construction Association of Nova Scotia's office on Friday, September 6, 2019.
CANS Board Members and staff, Oulton's surviving family, long-time colleagues and representatives from NSCC gathered Friday morning to present Ms. De with the new scholarship.
For more than half a century, the award's namesake, David Oulton was a driving force in the construction industry, locally and abroad. Much of his life was spent working with people, trying to find a way to build their projects but also change the way construction was viewed. While his passion for construction earned him the nickname, "Mr. Construction" among friends, Oulton cared about much more than just buildings.
He spent a great deal of time volunteering in his community. "Dave's involvement in construction wasn't limited to fabricating and erecting the steel. He recognized that in order to grow and improve the construction industry, he needed to share his knowledge," said CANS Vice-Chair, Tim Houtsma Friday morning.
Oulton was a man of his word, playing an active role in this community over the years. He was Chairman of CANS (1999), as well as sitting on various boards including, the Sector Council, the CCA and the NSCLR. He was a pioneer in driving positive relations with the Ironworkers Local 752, was a trustee on their Pension and Benefits plan, as well as instrumental in developing their apprenticeship program.
In 2007, Oulton spearheaded the CANS 150th Anniversary Industry Campaign. This campaign raised over $1.2 million in scholarships and bursaries for students in construction-related programs at the NSCC. "Hundreds of students have benefited from this program and will continue to benefit for decades to come:" said Duncan Williams, President and CEO of the CANS.
Despite his personal efforts to develop the industry, Oulton was a humble man. His wife, Connie said, "I don't know that Dave would want recognition — he was the type to be an anonymous donor. He lived to work, the industry was so important to him."
"Dave would've shied away from the spotlight of awarding this scholarship," shared Houtsma, "but I know that he would be quietly proud that he is helping someone gain knowledge and benefit the construction industry."
The award's recipient, Sanchari De, will begin studies this September at the Ivany Campus. Despite the whirlwind of change — she arrived in Canada just 10 days before the award ceremony, De is excited to begin her studies in Nova Scotia. "It was a hard decision to leave my job and come this far from [India], but I believe that it will open various opportunities for me. I am willing to give my 100% to this course and hope to make my family proud one day."
The newly created, David Oulton Memorial Award scholarship is given to a full-time student, enrolled in the Construction Management Technology program at NSCC, who demonstrates strong leadership abilities and a background of community involvement.
https://www.cans.ns.ca/wp-content/uploads/2013/08/Cans_Updatedlogo-300x104.png
0
0
Alison Clack
https://www.cans.ns.ca/wp-content/uploads/2013/08/Cans_Updatedlogo-300x104.png
Alison Clack
2019-09-11 11:51:30
2019-09-11 11:51:30
The Spirit of "Mr. Construction" Lives on with Memorial Scholarship